Recent Site Additions
Many thanks to all who provide items for our website. There are so many items in private hands that can make us smile and cry, bring back memories and enrich our understanding and appreciation of Gilmanton.

For availability of books, pamphlets and other authored documents shown on this site, contact The Gilmanton Historical Society, or check Ebay or Amazon.

Recently posted items are listed below for a time and remain available on the related site page.
OCTOBER 2022
Places
Poor Houses and Town Farms: The Hard Row for Paupers-Steve Taylor
AUGUST 2022
Town Meeting
Fund Balance-Taking Away the Mystery
NHMA-2022 NEW!
JULY 2022
Genealogy
Dow Family
Cemeteries
Primrose (County Farm) Cemetery
Conserved Properties
Tom Howe Barn & Conservation Area

-

245 Meeting House Road
NH State Register of Historic Places Application
Property Ownership, Deeds, Map
Military
1958 War Memorial Dedication
JUNE 2022
Obituaries
Bertocchi, Kathleen Hussey - 22Jan1945 - 03Jun2022


Hawkins, Carl R

- 22Mar1959 - 25May2022
Kelley, Charles Gordon -

29Oct1962 - 04Jun2022


Rapoza, Mark - 24May2022


Sterns, Maurice

- 25May2022


Willard, Candace Rae

- 16Aug1945 - 15Jun2022
Cemeteries
Smith Meeting House
Brief History, 2022
Brief History, Edward J. Maher, 1969
Records of the Congregational Church 1774-1819
Baptisms performed by the Revd. Isaac Smith 1775-1819
Ecclesiastical History re: Lieut Parker Morgan
Current Burial Layout
1935 Cemetery Map
2019 Boundary Plan
2005-2021 Burials
​1990 Rec
ord of existing stones, Marion McIntyre
1911 Death Records
MAY 2022
Research
The History of Gilmanton
,
William Badger, to 1875
Genealogy
Lougee
Cemeteries
Coffin and a Box
Recently we were asked about a term used in Town Reports from the 1800s where the Town paid for the burial of individuals then living at the Town Farm. Some of the payments listed were for "a coffin and a box". Since burial vaults were not used at that time, especially for burials paid for by the Town, what was the "box"? In our research we found an
1840 will
that refers to a coffin and a box, the box being the shipping container to transport a body to its final resting place. Quite interesting. If you have a different idea of what the box was, let us know!
Obituaries
Foss, Lois R Towle
-
1934 - 07May2022
Hubbard, Benjamin Fenton
-
05Jan1992 - 30Apr2022
Ilg, Robert Jay
-
07Apr1963 - 21Apr2022
Roads
Smith Meeting House Road The original Smith Meeting House Road ended at Eliphlet Gilman's house (now 254 Meeting House Road, Tax Lot 419/029). It was extended 25 Feb 1779 due to the 1770 Province Road construction. The extended Smith Meeting House Road followed a straight line, up a steep hill (former Range Road) and connected with Province Road. Part of this extension was discontinued 18 Mar 1893.

Thank you Paula Gilman and Jon Hall.
Province Road
Records show that the old scouting trail officially became Province Road around the years of 1768-1772 and was so-named because it was the result of the actions of Governor John Wentworth and the provincial legislature, the only carriage road in western New Hampshire built through such a process. One of the earliest highways in New Hampshire, Province Road was authorized in 1765 as a supply route from the tidewater port of Durham to the colony's northern settlements in the Coos. The section of the road through Gilmanton was built in 1770 nine years after the township was settled.
Friends of Mt Sunapee 1999
Town Meeting
Financial Policies
NHMA March/April 2022
Fund Balance
Fund Balance Unassigned Ways to Use

NHGFOA 2021


Town of Gilmanton Fund Balance Policy

01/11/2016
Fund Balance Appropriate Level
NHMA 2017
Fund Balance New Rules
NHMA 2010
Fund Balance New and Improved

NHMA 2010
Property Tax Coefficient of Dispersion

2021
Property Tax Impact of a proposed Article-Estimating
NHMA 2012
Property Tax Impact of Proposed Warrant Article Based on Cost
2021
Property Tax Rate Setting Overview 2017
Property Tax Rates - Gilmanton
1997-2021
Property Tax Rates - NH Communities
NH DRA
Property Tax Revaluation
NHMA 2022
Property Tax: Understanding the Math, Dispelling the Myths
NHMA 2012
Transferring Funds Between Approved Purposes
NHMA 2009
APRIL

2022
Obituaries
Falardeau, James J
-
13Dec1950-07Apr2022
MARCH 2022 (2nd update)
Conserved Properties & Public Trails
Joe Urner Trail at Meetinghouse Pond
Charles Kelley Memorial Forest
Demographics
Population
2010 US Census
American Indian Presence in Gilmanton -
Excerpts from The History of Gilmanton 1845
Indigenous New Hampshire Collaborative Collective
Story Map of NH Indigenous life
Historic Indian Trails of New Hampshire,
Chester B. Price, 1958
Historic Indian Trails of New Hampshire - List of Names - Martin, 2021
Trails in Gilmanton - Suncook Trail and Quannippe Trail
Fire Department
History of the Gilmanton Fire Department, 1970
Additional Pictures
-
1986
Memorial Day
American Legion Post 102, Ellis-Geddes-Levitt, Gilmanton, NH
(Updated)
Obituaries
Canole, Rita M. Vacatello - 10Jan1958 - 09Oct2021


Hiltz, Donald F

- 27Jan1942 - 28Feb2022


Milton, Ivan G

. - 06May1935 - 11Jan2022


Milton, Patricia F. Iverson

- 02Apr1943 - 11Jan2022
Stevens, Pastor, Sherman Alfred

- 12Jul1931 - 24Aug2021
Organizations
Granges-More Info Available at the Gilmanton Historical Society
Peaked Hill Grange #269 - Organized June 17, 1898. Closed in 1967 with 52 members. The last Master/President was Catherine Dunn. The last Lecturer was Robert Gale. The last Secretary was Catherine Brown. The Grange met on the 2nd and 4th Wednesdays at the Grange Hall located at 544 Province Road.
Crystal Lake Grange #101 - Organized September 1, 1884. Closed in 1957 with 65 members. The last Master was Irene Davis. The last Lecturer was Iona Smith. The last secretary was Dorothea Wells. The Grange met on the 1st and 3rd Wednesdays at the Town Hall (GIW).
New Hampshire State Grange - "The Grange is, and has long been, the strongest sustained organizational force working effectively towards attaining a good and full life for all citizens of rural America.
Pictures
George & Steve McClary, Home on Leave

,
(JoAnn Shattuck)
Grammy Esther McClary, 1940s,
(JoAnn Shattuck)
Leona McClary 1940s

,
(JoAnn Shattuck)
McClary Farm Allens Mills Rd

,
(JoAnn Shattuck)
Properties
New owners look to restore Gilmanton's Brick House
Photos
Roads
Culverts & Closed Drainage Systems Report
LRPC 2020
Road Surface Management System
,
LRPC 2021
Unpaved Road Assessment LRPC2020-2021
Town Meeting
History of Ballots Cast
53 Ideas on How You Can Govern Better
NHMA March/April 2022
A Capital Improvements Plan is Not Just A Wish List NHMA March/April 2022


Tax Rates

1997-2021
MARCH 2022 (1st update)
Cemeteries
Alton Cemeteries-1978
Albert G. Barnes


Chester, NH Cemetery Inscriptions

John Carroll Chase 1869


Colonial Gravestone Inscriptions

Goss 1942
Community Buildings
Gilmanton Theological Seminary
The NH Repository, Rev William Cogswell, July, 1846
Demographics
1979 Gilmanton Planning Board Community Survey
1790 US Census
Events
Great Ice Storm of 1998
Tornado 1880
Fire
Iron Works Home destroyed by early morning fire
Fire Department Pictures - 1980s
Genealogy
Badger, Giles and His Descendants,

John Cogswell Badger 1909
Barnstead Early Families From 1727 to 1970-Part1
-Stuart Merrill
Barnstead Early Families From 1727 to 1970-Part2
-Stuart Merrill
Barnstead Early Families From 1727 to 1970-Part3
-Stuart Merrill
Barnstead Early Families From 1727 to 1970-Part4
-Stuart Merrill
Barnstead Early Families From 1727 to 1970-Part5
-Stuart Merrill
Battis Frank
Dudley

Pedigree
Freemasonry in New Hampshire
1972


Gilman, John

Vol 1, Nadine Gilman Scott, 1974
Gilman, Jr, Edward
Vol 2, Nadine Gilman Scott, 2000
Gilman, Hon. John
, England & American, Arthur Gilman 1869
Kimball, Joseph Family
Leavitt
1967
McClary, Frank L and Betty (Deware)
2019


McClarys

, Frank, Leona, Esther, Jack, George, Marion, Joe, Steve
Mudgett, Thomas

Everett Mudgett 1996
Rollins
Thompson
1904
Maps
1892 D.H. Hurd & Co Gilmanton P.O. (Corners)
1892 D.H. Hurd & Co Gilmanton Iron Works
Military
John Stark, Hero of Bunker Hill

1975
Major General John Stark, Hero of Bunker Hill & Bennington 1728-1822
1972
Obituaries
Bishop,

William Edward
-

1940 - 24Sep2021
Buchanan, Jr, Briggs Wheeler -

1937 - 16Oct2021
D'Ambrosio, Geraldine A. Mitchell -

26Nov1942 - 16Nov2021


Davis, Phillip Malcolm -

1939 - 2022


Fortin, Paul E -

25Sept1951 - 16Feb2022
Freese, Courtland F H -

1928 - 12Dec2021


Gardner, George Eliot -

03Jan1936 - 07Nov2017
Harris, Melvin -

16Jan1934 - 29Oct2017


Kelley, Harriet E -

1923 - 15Oct2017


Kelley, John S -

07Aug1925 - 30Oct2017


Langley, Donald C -

04Jul1922 - 08Nov2017


MacMillan, Donald Murray -

02Apr1932 - 14Oct2017


Moorehead, Jeanine Louise Anair Segalini -

08Apr1933 - 18Feb2022
Normand, Nancy -

17Feb1952 - 13Jan2022


Paradise Erin E -

15May1978 - 27Oct2017
Plourde, Priscilla A Browning -

03Oct1927 - 16Jul2021
Schofield, Sally A -
01Aug1937_29Oct2017
Sidlauskas, Wanda Agnilska Shlaitas -

28Mar1919 - 12Mar2021


Tuttle, George A -

06Mar1937 - 20Feb2022
Twigg III, George Bo - 24Feb1932 - 01Dec2017
Organizations


1930-1940 Supplement to NH State History of the Daughters of the American Revolution




Daughters of the American Revolution 1964-Laconia Mary Butler Chapter


People
Colonel Thomas Cogswell
-
The Granite Monthly July 1886


Page, Moses Webster

- Page Belting Company 1927
Places
NH Farm Homes
1914
Religious
Centre Congregational Church, World Order Sunday, 10/20/1974, Brief history of Gilmanton's Churches
Research


American Indian Presence in Gilmanton - Excerpts from The History of Gilmanton 1845
Indigenous New Hampshire Collaborative Collective
Story Map of NH Indigenous life
Historic Indian Trails of New Hampshire,
Chester B. Price, 1958
Trails in Gilmanton - Suncook Trail and Quannippe Trail
1786-1795-A Town Meetings & Other (1772-1806)
1786-1795-B Town Meetings & Other (1772-1806)
1729-1772 Book 1 Town Records
1787 Book 2 Town Records (1770-1793)
1792-1816 Book 3 Town Records
1813-1829 Book 4-Part 1 Town Records
1813-1829 Book 4-Part 2 Town Records
1826-1842 Book 5-Part 1 Town Records
1826-1842 Book 5-Part 2 Town Records
1828-1857 Book 6 TownRecords
1770-1796 Book 7 Town Records
Belknap County Registry of Deeds
,
AVA Records Search Directions
Belmont History
Allan Hackett
Gilford History
Rev J.P. Watson
Gilford Story
Hector Bolduc
Meredith Grants
, Bicentennial 1968
Old Gilmanton Matters
The Granite Monthly 1909
Roads
Spring Road Conditions
1938
Laws Governing Discontinuance of Highways
Local Government Center 2004
Range Roads
NHDHR 2002
1948 Town Road Aid Project - widen causeway and rebuild bridge
Town Meeting
2021 Town Report
2022 Candidate Filing
2022 Candidate Filing School
Transferring Funds Between Approved Purposes
NHMA 2009
JANUARY 2022
Gilmanton-The Name New Hampshire Town Names and Whence They Came

, Elmer Munson Hunt 1970
Gilmanton Grant-The Name New Hampshire Town Names and Whence They Came
, Elmer Munson Hunt 1970
---
To his Excellency John Taylor Gilman, Esq.
And to the Honourable the Legislature of the State of New Hampshire
This Map commenced under their Auspices and matured by their Patronage
is most respectfully inscribed by their Obliged Servant
Philip Carrigain Concord - 1816
Shows the original, expanded, Gilmanton town lines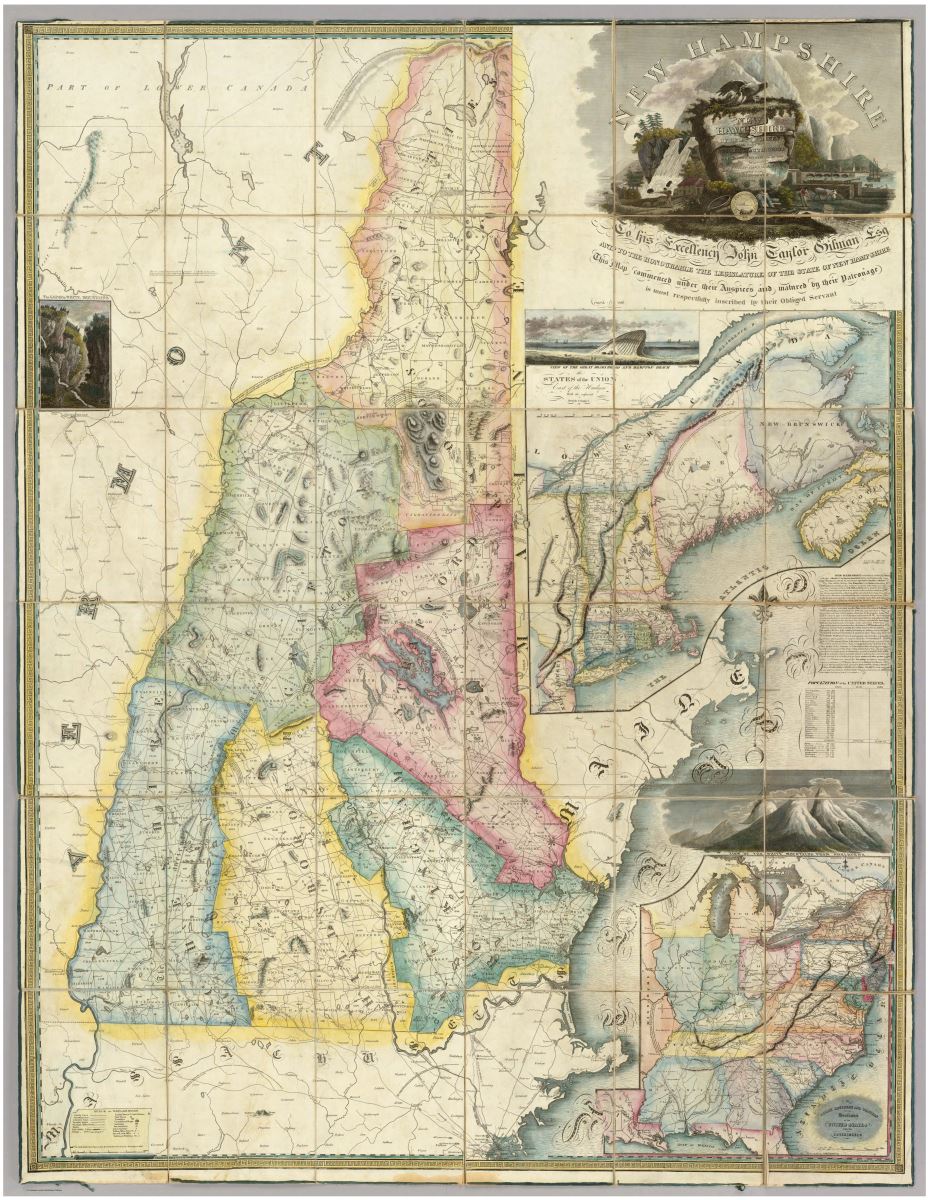 Click on the picture to open a larger version
The detail on this plan is beautiful

---